Meetings and Events, 2016-17
Tiverton and Mid Devon A. S. events and are held in the main hall at Blundell's Prep School at 7:30pm, usually on the first school-term Friday of the month. No previous knowledge of astronomy is necessary, so if you are at all interested you are very welcome to come along. Many of us are regular attenders at our informal meetings, but a warm welcome is always given to new faces.
For directions, please find us on Google Maps: visit maps.google.co.uk and type in the school's postcode, EX16 4NA. The school is on the south side of Blundell's Road. The school's full address is: Blundell's Preparatory School, Blundell's Road, Tiverton, Devon, EX16 4NA.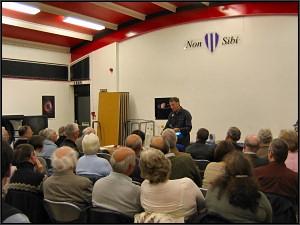 Date
Subject / Speaker
2016
Friday 12th August

Annual Starbecue


This ever popular event is open to members only and will be held in Paul's lovely barn at 12 Park Hill, EX16 6RW. Please bring food and drink.
Friday 2nd September

Direct Imaging of Exoplanets


Elisabeth Matthews will demonstrate how she is attempting a different method to directly image exoplanets and will explain why it is important and what she is hoping to find.
Friday 16th September

Workshop - Astrophotography


Astrophotographers John Parratt and Pete Richardson will give practical advice and guidance on how to take images of the night sky and process them. Please contact Angela on 01884 243186 for more info or to book yourself a place on this FREE workshop. [See Pete Richardson's presentation/slideshow (PDF).]
Friday 7th October

Images of the Universe, Part 2


The Society welcomes back the very witty and entertaining astronomer Paul Money to talk us through some more images which have inspired him to do what he does best!
Friday 21st October

TAMDAS Annual Dinner


This year's annual dinner will be held at the Hickory Inn at Halberton EX16 7AG. Further details and menu choices will be available nearer the date.
Friday 4th November

Gravitational Waves


Hugh Allen will use some of his telescopic observations to illuminate the impact of binary stars on the history of science and astronomy. The story will naturally lead to binary black holes and gravitational waves.
Friday 18th November

Workshop - How to Use Your Telescope


Do you own a telescope that you can't get to grips with but want to use on those starry nights? Members will be on hand to show you how to get the most from your scope. Please contact Angela on 01884 243 186 to book yourself a place on this FREE workshop.
Friday 2nd December

A Cornucopia of Astro Images


Highly renowned astronomer David Strange has been imaging the night sky for the past 50 years and will show a selection of the most intriguing objects he has captured during his life time of observing.
2017
Friday 6th January

Gaia: The Billion Star Surveyor


Paul Roche will tell how the ESA Gaia space mission is set to revolutionise our understanding of the Milky Way Galaxy and will map around 1 billion stars over the next 6 years - and also spot many other transient targets that need to be followed-up from the ground. Through the Faulkes Telescope Project, UK schools and amateurs will be able to participate in the ground-based follow-up programme, helping discover new supernovae, novae and other exotic objects.
Friday 3rd February

Diary of a Space Ambassador


Society Member Jo Richardson will share with you a day in the life of a Space Ambassador. She runs her business Space Detectives and works with the European Space Education Office and National STEM Centre and is busy delivering the Tim Peake Primary Project. Learn what it means to inspire the next generation using the context of space.
Wednesday 22nd February

Visit to the Norman Lockyer Observatory


Founded by Sir Norman Lockyer in 1912 the observatory was a centre for astrophysical and geophysical research until the 1980's. Today the observatory is managed by unpaid volunteers to support science education. Further details for this society visit will be given nearer the time.
Friday 3rd March

The Birth of the Solar System


James Fradgley shares his not-so-technical view on how different sorts of planets and other bodies came to be where they are.
Friday 5th May

The Story of Jodrell Bank


After a brief AGM, enjoy the fascinating story of this world famous telescope as told by Gresham College Professor of Astronomy Ian Morison. Hear how the 60-year-old Lowell Telescope is better now than it has ever been and through its role in the MERLIN and European telescope arrays continues to play a leading role in astronomy.
Friday 2nd June
Dust: It Gets Everywhere!
Dust is all around us, both on a planetary and galactic scale. In his talk Sam Morell will take you on a grand tour of dust and its effects on us as a species and as astronomers.