Meetings and Events, 2019-20
Tiverton and Mid Devon A. S. events are held in the main hall at Blundell's Prep School at 7:30pm, usually on the first school-term Friday of the month. No previous knowledge of astronomy is necessary, so if you are at all interested you are very welcome to come along. Many of us are regular attenders at our informal meetings, but a warm welcome is always given to new faces.
For directions, please find us on Google Maps: visit maps.google.co.uk and type in the school's postcode, EX16 4NA. The school is on the south side of Blundell's Road. The school's full address is: Blundell's Preparatory School, Blundell's Road, Tiverton, Devon, EX16 4NA.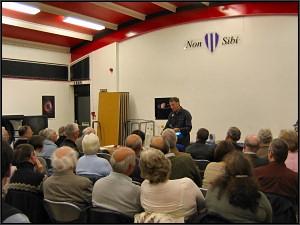 Date
Subject / Speaker
2019
Friday 6th September

If it ain't broke, fix it!


SIMON HOLBECHE feels the spirit of William Heath Robinson is alive and kicking in back gardens across the UK and will present an interesting guide to astro DIY successes and failures in one garden near Bath.
Friday 4th October

Why cosmologists have got it all wrong


Back by popular demand, PROFESSOR MIKE DISNEY claims Cosmology can never be a proper science because there is only one Universe and the early stages will forever lie beyond observation. He will also explain why he thinks the present Big Bang Theory is almost certainly wrong!
Friday 1st November
Spaceport: launching the UK back into space
MELISSA THORPE from Spaceport Cornwall, will explain how Virgin Orbit and Goonhilly Earth Station are partnering to deliver the the UK's first horizontal launch spaceport. The project will deliver a sovereign launch capability for the UK, and allow satellite companies lower-cost access to space, getting more life-changing technologies into space.
Friday 6th December

Stars over the Nile


The UK's co-ordinator of the Campaign For Dark Skies, BOB MIZON MBE, will talk about the ancient Egyptian's peculiar fascination for what went on above them, both night and day. He will explore some of the most interesting concepts, both spiritual and practical, they derived from watching the skies.
2020
Friday 10th January

New Horizons - from imagination to reality


CHRIS STARR will give a resume of the history of our knowledge of the outer solar system, NASA'S amazing New Horizons mission, and what we have learned so far from it, including both the Pluto and Ultima Thule encounters.
Friday 7th February

The Moon in the modern age


The Apollo program has answered many longstanding questions about our nearest neighbour, but has also given rise to many new ideas. RAY MATTHEWS will take an accessible look at current Lunar research which uses the latest technology, and will try to speculate on what we might be looking for when we finally return.
Friday 6th March

DIY optics for astronomy


PETE RICHARDSON is currently making his own 10" and 20" telescopes. He will share with us the highs of lows of learning to make your own telescope mirror from designing and building the equipment to do the grinding, polishing and figuring.
Friday 3rd April

TAMDAS Annual Dinner


The Society's Annual Dinner will be held at The Keeper's Cottage, Kentisbeare, Cullompton. EX15 2EB Further details and menu choices will be given nearer the date.
Friday 1st May

Misconceptions in astronomy and physics


IAN KMIMBER feels a lot scientific presentation concentrates on the "gee whizz" and unexpected results of Astronomy and Quantum Physics which results in people's understanding of the way things really work becoming distorted. In his talk he will put things in a more realistic perspective. (Before this meeting we will hold a brief AGM.)
Friday 5th June
On board the ISS
JO RICHARDSON of Space Detectives and an ESERO-UK Space Ambassador will share her insights into the life and work of astronauts on board the International Space Station, following on from her involvement with the European Space Education Office and the Tim Peake Primary Project.