Meetings and Events, 2020-21
Tiverton and Mid Devon A. S. events are held in the main hall at Blundell's Prep School at 7:30pm, usually on the first school-term Friday of the month. No previous knowledge of astronomy is necessary, so if you are at all interested you are very welcome to come along. Many of us are regular attenders at our informal meetings, but a warm welcome is always given to new faces.
For directions, please find us on Google Maps: visit maps.google.co.uk and type in the school's postcode, EX16 4NA. The school is on the south side of Blundell's Road. The school's full address is: Blundell's Preparatory School, Blundell's Road, Tiverton, Devon, EX16 4NA.
Covid-19: Important Information About Meetings
At the time of issuing this programme there is still a lot of uncertainty in respect of the Covid-19 pandemic. If we are unable to hold meetings at Blundell's School we intend to hold them via Zoom. Please see this website and our Facebook page for up-to-date news on this.
You can be included in the Zoom meetings by paying a year's membership or as a visitor at a cost of £3 plus £1 ticket handling charge. For full membership please contact our Treasurer. Otherwise, we ask visitors to contact our Events Co-ordinator at joannerichardson22@rocketmail.com.
Also due to the pandemic we are unable to offer night time observing sessions at this time but will they will resume when it is safe to do so.
If you require any further information regarding the society and its events please contact the Chairwoman or Events Co-ordinator.
Your support, patience and understanding is very much appreciated during these unprecedented times.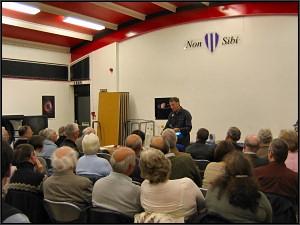 Date
Subject / Speaker
2020
Friday 2nd October

MISCONCEPTIONS IN ASTRONOMY & PHYSICS


IAN KMIMBER feels a lot of scientific presentation concentrates on the "gee whizz" and unexpected results of Astronomy and Quantum Physics which results in people's understanding of the way things really work becoming distorted. In his talk he will put things in a more realistic perspective.
Friday 6th November

NOT JUST A PRETTY PICTURE


This presentation will be delivered by Wells and Mendip Astronomy Member IAN HUMPHREYS and it examines data mining astro-subs for exoplanets. It also takes a look at how Astrophotography with small telescopes can be used for the discovery of new worlds.
Friday 4th December

STELLAR CARTOGRAPHY: 3D MAPPING OF LOCAL GROUP GALAXIES USING VARIABLE STARS


Variable stars have been used for over one hundred years as probes for determining astronomical distances which can be used to map out the three-dimensional (3D) structure of nearby galaxies. Exploiting the effect that working at mid-infrared wavelengths has on Cepheid magnitudes and light curves, we can now map our nearest galaxies in 3D at fidelities never before achievable. In this talk ABI CHOWN presents her PhD research, showing how she uses variable stars to produce 3D maps in order to study the geometric and chemical structure of galaxies as well as their interaction history.
2021
Friday 8th January

SPACE X - FAILURE IS NOT AN OPTION


Mark Woodland is back by popular demand to give an overview of Space X; it's successes, failures and amazing future.
Friday 5th February

MASSIVE COLLISIONS IN THE SOLAR SYSTEM


In this talk PAUL ROCHE covers asteroids, comets, impacts, meteorites and the potential aftermath of an Extinction Level Event. Evidence shows that impacts have played a key role in shaping the planets in our Solar System, and possibly the evolution of life itself. Astronomers regularly discover huge lumps of rock and ice hurtling past the Earth, and if some of them were to actually hit us, the effects could be terrifying, with dramatic consequences for all life on Earth. Recent near misses, and the huge airburst explosion over Chelyabinsk, Russia, in February 2013, make this a very topical issue.
Friday 5th March

BINARY STARS – A HISTORY OF MAKING WAVES


Binary stars have a history of making waves in all branches of astronomy; the detections by the Laser Interferometer Gravitational-Wave Observatory (LIGO) are just the latest and maybe greatest example. HUGH ALLEN'S talk will use some of his own images and spectroscopic observations to illuminate the impact of binary stars on the history and science of astronomy.
Friday 9th April

TAMDAS ANNUAL DINNER


The Society's Annual Dinner will be held at The Keeper's Cottage, Kentisbeare, Cullompton, EX15 2EB. Further details and menu choices will be given nearer the date.
Friday 7th May

DISCOVERING EXMOOR'S SPECIAL QUALITIES FOR DARK SKIES


Since the initial surge of activity and interest when Exmoor received its International Dark Sky Reserve status 9 years ago, there has been a long period of steady-state where most of its effort has been focussed around the Dark Sky Festival. With local protective legislation now in place, increasing government interest in dark skies (and another 11.5 months to fill when the festival is not running), DAVID PEARSON will tell of Exmoor's ambitions for more nocturnal activities and to help connect people with the night skies. New developments are being considered, including some for astronomers. This presentation describes the journey of discovery so far, the challenges and findings along the way, and what could be coming soon.
Friday 11th June

IMPROVING THE MEASUREMENTS OF THE FUNDAMENTAL PROPERTIES OF STARS


SAM MORRELL will look at some of the topics in his thesis by introducing you to the fundamental parameters which dictate the characteristics and evolution of all stars, and describing how we have been able to harness novel data analysis techniques and the large quantities of new and existing archival observations to measure them. He will also show how assembling stellar samples of unprecedented size, precision and accuracy have allowed us to address some of the long-standing problems in low-mass stellar evolution and exoplanet science.